Geocoding: US & Worldwide Geocoding of Addresses, Postal Codes, Cities, etc.
1. Geocoding: US & Worldwide Geocoding of Addresses, Postal Codes, Cities, etc.
Geocoding is the process of matching an address to a location on the Earth. Besides software, the process requires map data. Pitney Bowes's matching algorithms are battle tested and the best map data is used. Also, the input data is on-the-fly run through address correction before geocoding. (If you need full Address Validation and Correction, see below.) The map data in the service is automatically updated monthly or quarterly depending on the dataset.
Underlying map data from Tom-Tom, HERE (Navteq), USPS and several more
73 countries at full address accuracy
149 countries at street level accuracy
251 Countries, territories, islands, etc. at City and Postal Centroid accuracy
Supported input field highlights:

Up to four Address lines are supported
Support for Company or Firm name
Support for Building names in addresses (e.g. Empire State Building)
Country-specific fields

Multiple language support
Default settings are good for most purposes
Many settings allow you to control the match process
Support for fallbacks. If an address can't be found, allows for optionally "falling back" to higher geography, such as postal code.
Optionally returns candidates, including those to determined to be "close matches."
Supports full batching and micro-batching (up to 25 records at a time)
Support return of APN (Assessor's Parcel Number) (optional)
Supports returning of elevation (optional)
Response and Match Codes are returned that describe what the geocoder found and what it had to do to match.
IMPORTANCE OF GEOCODING: Keep in mind that many processes and calculations depend on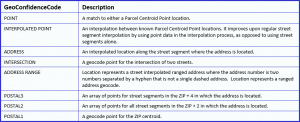 a quality geocode. These services will provide accurate answers for whatever is inputted, but if the coordinates aren't right to begin with, the answers may not be right. Geocode coordinates from consumer systems like Google™ or Bing™ are often wrong enough that you would be getting wrong answers. We recommend using quality geocoding.