Property and Casualty Insurance and Re-Insurance
Insurance is a promise to policyholders. It says, when something goes wrong, we'll be there to help. But you can't make that promise to everyone and stay profitable. That's where data makes a difference.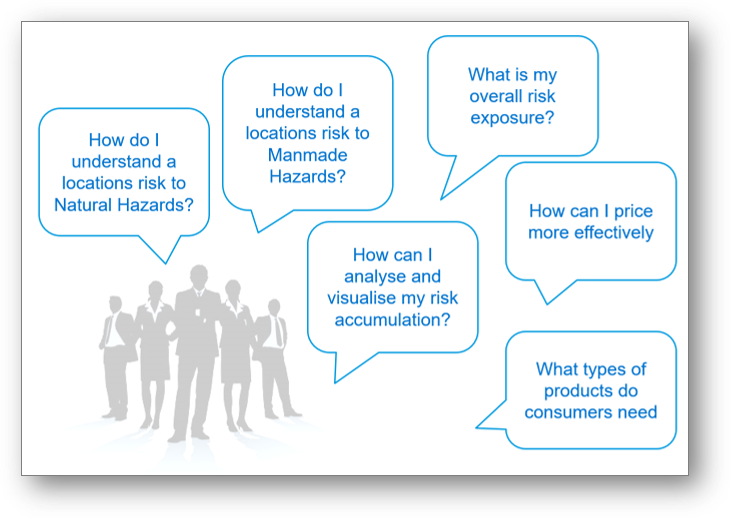 A single view of risk makes a difference.
● Understand as much as possible about every location.

● Gain actionable insights to make better business decisions.

● Add precision to risk analysis and modeling and turn information into action.

● Improve pricing efficiency, risk management and more.

● Improve the customer experience with greater data and analytics.

● Drive bottom-line business objectives across the organization.
…and everything you do depends on precise data.

Current and more accurate datasets to deliver today's must-have insights.

Detect risk that others miss
Understand natural hazards risk
Pinpoint pockets of opportunity

Provide accurate, competitive pricing
Price based on a more accurate risk assessment

Manage state filing requirements

Visualize total portfolio exposure
Enhance financial risk models

Determine PML

Understand which products consumers need
Improve product design and pricing
For example, what are the issues with buildings with more than one address?
Quality geocoding and detailed information about the result are important in insurance:
Build a data-centric insurance company:
Handle Claims With Precision

• Expedite claims processing.

• Enhance customer insights and analytics.

• Expedite adjuster response.

• Increase customer satisfaction and retention.
Market With Confidence

• Identify high-value customers and prospects.

• Target based on more precise risk profiles.

• Improve upsell and cross-sell.

• Recruit and retain key agents and brokers.
● Comprehensive location risk models for full understanding of risk exposure

● Scientific modeling from industry experts

● Provides competitive advantages with accurate and factual data

● Meets regulatory, rating, and reinsurance demands

● Underwriting to a profit

● Ready to use and consume in many systems (Precisely Spectrum, Internal Systems, Esri, etc.)
SpatialPoint offers you many ways to mitigate risk and improve pricing efficiency. We work with Precisely (formally Pitney Bowes Software), the leader in Data Quality for the Insurance Industry.