What Is KWA?
KWA stands for Knowledge Worker Application. KWAs include desktop applications, subscriptions, websites, hosted solutions on your own servers, cloud-based solutions or hosted solutions on our servers. They are tools to help individuals or groups with analysis, decision making, and visualization tying business data to geography.
KWAs can be used to direct business practices, view operational details, aid in marketing plans, etc. They help to answer the questions: where are my customers, where should I put a new store or cell tower, am I covering or servicing the correct areas, how can I find new customers that are similar to my best customers, are my stores meeting their goals, or are my territories optimized?
Mapping tools make it easy to recognize patterns and identify trends to improve your business.
Take a look at the various KWAs that we have to offer to aid you in identifying new opportunities, making better decisions, improving customer service, enhancing productivity and reducing costs.
Besides KWAs, SpatialPoint supplies online locators (retail, ATM, distributor, territory-based, etc.), analytics for locators, Pitney Bowes Spectrum Enterprise Geocoding (including international), Pitney Bowes Enterprise Mapping, and applications with Bing Maps.
If you have problems or needs that involve maps, geography, visualization or spatial calculations, please contact us.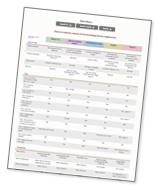 More About…
MapInfo Pro
MapInfo AnySite
Magnify
Spectrum Spatial Analyst
Map & Demographic Data