What Is KWA?
KWA stands for Knowledge Worker Application. KWAs include desktop applications, subscriptions, websites, hosted solutions on your own servers, cloud-based solutions or hosted solutions on our servers. They are tools to help individuals or groups with analysis, decision making, and visualization tying business data to geography.
KWAs can be used to direct business practices, view operational details, aid in marketing plans, etc. They help to answer the questions: where are my customers, where should I put a new store or cell tower, am I covering or servicing the correct areas, how can I find new customers that are similar to my best customers, are my stores meeting their goals, or are my territories optimized?
Mapping tools make it easy to recognize patterns and identify trends to improve your business.
Take a look at the various KWAs that we have to offer to aid you in identifying new opportunities, making better decisions, improving customer service, enhancing productivity and reducing costs.
The three main KWA's are:
MapInfo Pro™ – a powerful desktop mapping tool that is packed with features to help you to see trends and patterns so you can make informed decisions. It's the Excel™ of mapping.
AnySite™ – a powerful desktop tool focused on demographics and site selection. Analyze one site or thousands. With thousands of demographic variables, drive time capabilities and many standard reports.
Magnify™ – web-based demographic and site selection system. Similar to AnySite, but for a broader audience.
Spectrum Spatial™ – a web-based platform for building easy to use and focused applications with maps and reports – to enable Knowledge Workers.
See the table below for comparisons.
If you have problems or needs that involve maps, geography, visualization or spatial calculations, please contact us.  BTW, we can do the work for you or with you.  Need some geographic analysis?  Set up or rebalance sales territories?  Perform demographic analyses?  Help with site selection? We can help.
Besides these Knowledge Worker Applications, we are experts in Address Validation/Correction, Data Quality tools, Geocoding, Geographic/Demographic data, etc.
More About…
Powerful Desktop Mapping
Demographic Analysis/Site Selection
These are popular aspects of the Knowledge Worker Applications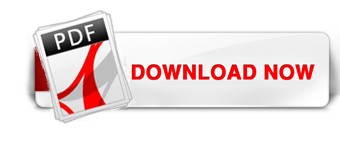 Type of User
MapInfo Pro
Spectrum Spatial Analyst
Web Desktop Access
AnySite
Magnify1
Target Audience
More Experienced in Mapping
Analysts, Knowledge Workers, Management
Location Intelligence Project
Site Selection, Customer/Location Profiling
Site Selection, Customer/Location Profiling
Versions Available
Standard, Advanced, Premium2
Standard
Customizable
AnySite US, AnySite Canada,
AnySite Australia
Two versions US, Canada with four editions
Deployment
Installed, desktop only
Browser
Browser or Desktop Access
Installed, desktop only
Browser
Security
Desktop
User IDs, Roles, Protected info, Single sign-in
User IDs, Roles, Protected info, Single sign-in
Desktop
User IDs
Task
Can I put points (customers, stores, etc.) on a map?
Yes
Yes
Yes
Yes
Yes
Can I site new locations?
Yes
Yes, limited
Yes
Yes
Yes
Can I profile my customers?
Yes
Yes
Yes
Yes
No
Can I profile my locations?
Yes
Yes
Yes
Yes
Yes
Can I color my customers by locations?
Yes
Yes
Yes
Yes
Yes, custom4
Can I color my customers by sales?
Yes
Yes
Yes
Yes
Yes, custom4
Can I create Sales Territories?
Yes
Limited
Yes3
Yes
Yes5
Can I find out how many customers are in a radius of a location?
Yes
Yes
Yes3
Yes
No
Can I shade Zip Codes or Countries by my data?
Yes (and much more)
Yes
Yes3
Yes (and much more)
Yes, custom4
Can I draw custom shapes?
Yes
Yes
Yes3
Yes
Yes
Can I export the map and data?
Yes
Yes
Yes3
Yes, and reports
Yes, reports vary by Edition
Capabilities
Map Quality
Supports Bing Map Underlays
Supports Bing Map Underlays
Bing Maps-like
Several styles, including Bing Map Underlays
Google Maps Underlays
Built-in Geography
Basic North American
Geographies included
Basic Geography
Many Options
US, Canada
US, Canada
Optional Geography
Many Options
Many Options
Many Options5
Many Options
Any geography in a .tab or .shp format
Customizable
Yes
Highly
Highly
No
Limited
Configurable
Yes
Highly
Highly
Yes
Limited
Integrated with Microsoft Office
Reads Excel and Access
Limited
Yes3
CSV, etc.
Reads Excel and CSV, Exports to CSV
Works with MapInfo Pro Workspace
Yes
Yes
No
Send active map window to MapInfo Pro
No
Import your own data
Yes
Yes
Yes3
Yes
Yes
Built-in Demographics
Limited
Limited
Yes3
Yes
Yes
Additional Demographics
Optional
Optional
Optional
Optional
Optional
Restyle Layers
Extensive
Extensive
Yes3
Extensive
Yes
Labeling
Extensive
Yes
Yes3
Extensive
Yes
Printing Output
Extensive
 
Yes3
Yes
Yes
Large Format Printing
Yes
Limited
Yes3
Yes
Yes
Geocoding-Included
World Streets, World Postal, World Places, World Cities6
All levels, all countries available are optional
All levels, all countries available are optional
Depending on version, streets, postal codes for US, Canada or Australia7 
Depending on country and edition, US and/or Canada Street and Postal level8
Create Drive-Time Shapes
Optional
Optional
Yes3
Yes
Yes
Database Operations
Extensive
Extensive
Yes3
Filtering
No
Thematics (shading the map)
Extensive
Extensive
Yes3
Extensive
Yes
1Extent of capabilities varies by Edition
2There are two versions of MapInfo Pro: Standard and Advanced. Advanced has all of the features of Standard, with the addition of advanced raster capabilities. Additionally, there is the Premium option which adds Bing Road Maps and can be included in either the Standard or Advanced versions.
3Customizable based on requirements
4Customization is available beyond combinations provided.
5GeoJoiner tool provides ability to do one at a time and save
6Includes limited number of transactions per month for items listed. Additional transactions available. Unlimited usage for US Postal Codes, US Counties, and US Cities.
7Includes unlimited geocoding at the street level and postal code level for US, Canada or Australia on the country licensed. Also, depending on the countries and version, additional geocoders are available.
8Depending on the edition, a varying number of transactions are included for the US and/or Canada.
These are popular aspects of the Knowledge Worker Applications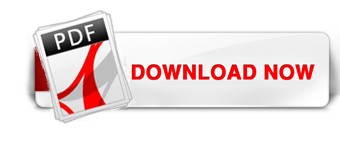 VIEW CHART IMAGE IN ITS OWN TAB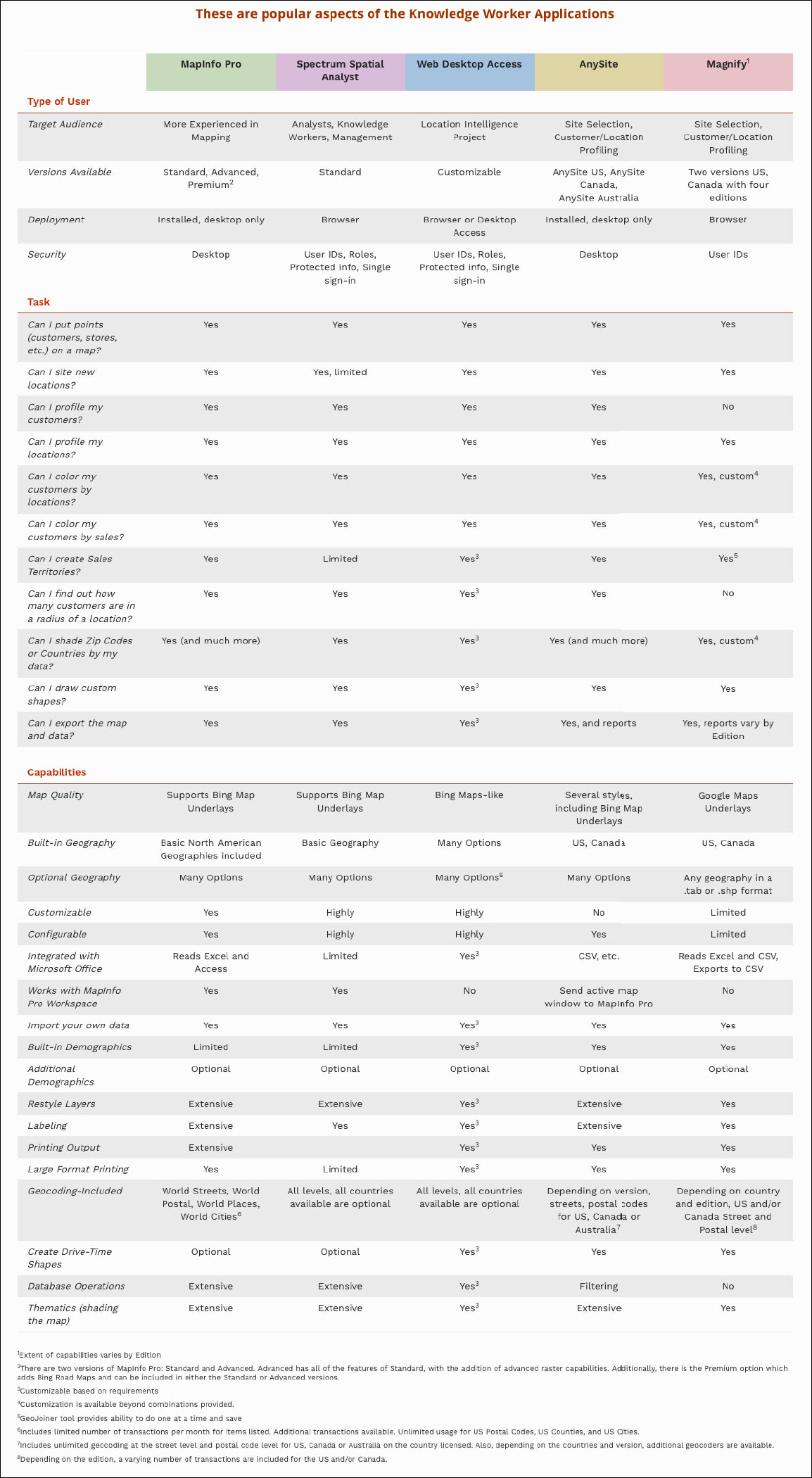 Remember MapPoint™?
FYI, some people find us from their use of Microsoft MapPoint. MapPoint was a very powerful and easy to use system from Microsoft that had millions of users. It was a trusted companion for years, but has been discontinued by Microsoft. People still use it and ask us about it.  SpatialPoint used to provide training, support, and we built many custom applications around and with MapPoint.
Today, our Knowledge Worker business helps organizations replace the functionality of MapPoint with the modern tools described on this page. Contact us to find out more!