What is MapInfo Pro™?  Think about MapInfo as the Microsoft Excel™ for mapping. MapInfo is used by all sorts of people for many tasks in many industries.  Like Excel, there are many advanced features that are available. Also like Excel, you use these advanced features as you need to while the basics are at your fingertips.
MapInfo stands on its own but it also is used to prototype processes that will be automated by other means – such as with other products we sell.
Just about any organization can use desktop mapping. In many cases, users in specific roles/departments use MapInfo. In some organizations, MapInfo is used by many departments as they can share data and results. Here is a short list within organizations and by industry…
1.  SALES AND MARKETING
Sales and marketing organizations use MapInfo to analyze sales, plan territories, and target promotions to gain the competitive edge.
2. DATA SCIENCE/ARTIFICIAL INTELLIGENCE/MACHINE LEARNING/BIG DATA
MapInfo is used to help prep and visualize data – before modeling and after. MapInfo can be automated to help in the stream of data processing required.
3. TELECOMMUNICATIONS
Just about everything in the telecommunications space has a location (or "where") component.  From physical assets to wireless towers/cell sites to actual wireless coverage to regulatory boundaries to fiber locations to capacity planning to sales, retail and marketing planning to…the list is long.
4. RETAIL
Similar to telecommunications, in many ways retail is a location-based. MapInfo is used to help make decisions about where to grow/expand, site-selection for stores and supply chain, to understand customer demographics and behavior, and to visualize and manage assets like inventory.
5. REAL ESTATE
Banks and Financial Firms use MapInfo to analyze customer trends, help with site selection, analyze competition, help with business resilience, help with corporate social responsibilities.
6. BANKING/FINANCE
Banks and Financial Firms use MapInfo to analyze customer/deposit/asset/demographic/competitve trends, help with site selection, mergers and acquisitions (M&A), help with business resilience, help with corporate social responsibilities, etc.
7. INSURANCE
Many insurance companies and purchasers of insurance, especially Property and Casualty, use MapInfo to map policy locations, manage individual and aggregated risks, real-time and historical perils, help manage claims processing and build/manage facility and broker networks.
8. HEALTH CARE/PHARMA
HMO's, hospitals and other health care organizations prescribe desktop mapping as the cure for managed care challenges.
9. SUPPLY CHAIN/TRANSPORTATION
Desktop mapping is taking major transportation companies to new heights of efficiency.
10. GOVERNMENT
Desktop mapping is a perfect fit for trimmed-down government budgets.
MapInfo is a very visual tool but it is also is very analytical.  One of the best features is the way MapInfo allows you to operate the way you are thinking. Sometimes, you may be analyzing data and thinking like a map. But you also may need to think in terms of a list.  MapInfo supports different views of your data: maps and lists (called browsers – AND THEY ARE LINKED.
You can make selections in one view and see the results in the other view too. You can also have many views open – all sourced from the same or sometimes different data.  This is especially helpful when, for example, working on balancing sales or delivery territories. You may have many customers to assign and looking at a list, it can be very hard to see how to group them. Using the map view, it can be easy to form logical groups that are geographically desirable while balancing the time required to service the customers, the sales or delivery volumes and any other variables that are important to you.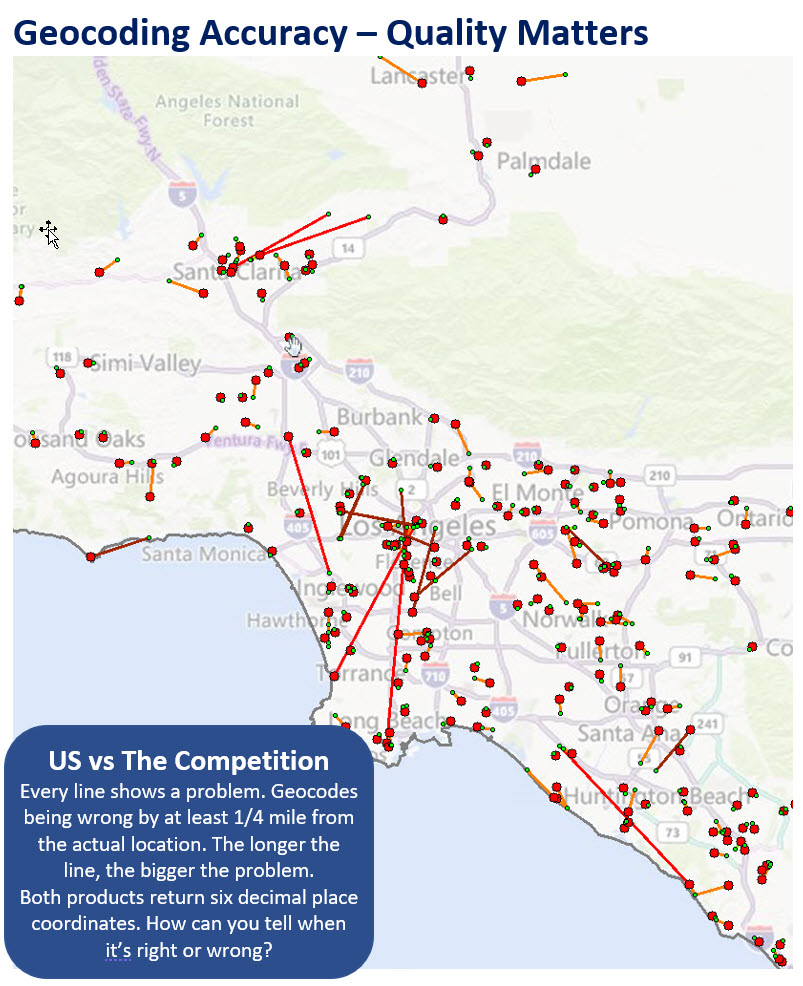 What's wrong with systems like Google™ or Bing?™
Systems designed for "consumers" are designed to give a "yes" answer, six decimal places of coordinates and a quality score, but the answers are not always right nor do they tell you what happened.  Without a good result code/match code system, you are limited in being able to know when there are problems and how big they are. Those six decimal places may be for a different location than you think. These systems are okay for finding the closest pizza place, but are often not good enough for business use with thousands or millions of records.

Attention Data Scientists!
Are you trying to implement Artificial Intelligence, Machine Learning, Single View, MDM (Master Data Management)? Or are you just trying to match items in Excel or Access?
Data Quality for location data is difficult. The Albuquerque list shows variations of just the city name. Imagine the issues with full addresses and the consequences of having combinations of problematic or ambiguous data in multiple fields. You may have addresses that cannot be reliably found, that are actually duplicates, or are very similar to other addresses.
Also, you can't rely on matching coordinates because the same physical location may have geocoded to a different place – very close or even somewhat distance.
No less than state of the art is required for every step in the process. You need consistent, validated, and standardized address and geocoding data PLUS…
Advanced matching algorithms to analyze, parse and standardize your data.
And software with machine learning capabilities to incorporate exceptions and provide flexible, easy to control data governance that makes the process of ensuring data quality as quick and painless as possible.
Our geocoding performs address validation and correction as part of the geocoding process! If you only need address validation and correction, we have that, too. We also cover you when you need the full features of address validation and correction, including detailed diagnostic information about your addresses. All available in batch, interactive, SaaS or self-hosted.
More on Geocoding from our Blog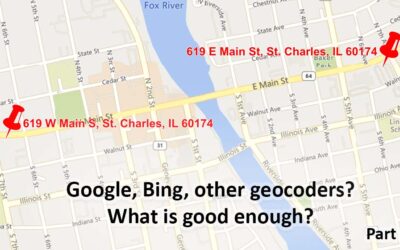 Are the geocoding tools in Google, Bing, etc. good Enough? Part 1 Note:  This is the first of a series of articles contrasting the approach of many geocoders, especially Google's and Bing's offerings, with enterprise/professional geocoding. When Google introduced...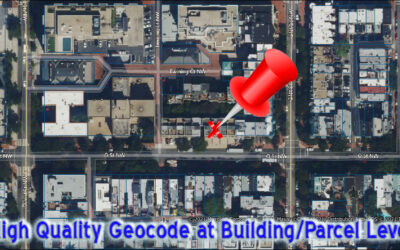 Geocoding Basics What is geocoding? Simply, it's the process of matching a location such as: an address ("Street-level geocoding") postal (ZIP) code ("ZIP-Level or Postal-Level geocoding) city name ("City-Level Geocoding, not used as much anymore) county name,...
One of our goals in communicating to you is to provide the most important information that helps you identify the signal and the noise. Think of listening to a radio station with static. The static is the noise and the voices or music are the signal. Our brains do a great job of filtering audio and there are tools to draw out the signal and suppress the noise. This blog is about focusing on the signal for various topics and, when possible, we'll describe the noise. Unlike the radio static that is random, some of the noise in the marketplace may seem like signal, but it's not.