What is Magnify?
Magnify is a powerful, easy to use and economical tool that delivers accurate geo-demographic results, saving customers time and money. Magnify makes visualizing data on maps fast and easy.
Powerful – Use Magnify's comprehensive batch and online capabilities to quickly create accurate and precise location analyses, study areas, reports and detailed Google maps.
Easy to Use – Use any contemporary browser to access Magnify's intuitive map visualization, report and location analysis capabilities.
Economical – Use Magnify's secure cloud-based solution to avoid expensive, complex and IT-intensive desktop software traps and maintenance.
ENHANCED MAPPING CAPABILITIES
Magnify makes visualizing data on maps fast and easy.
Two Versions: US and Canada

User-friendly browser-agnostic interface

Google Maps Street View, Aerial Imagery, and Points of Interest

"My Location" and traveling capabilities for GPS-enabled devices

Interactive map panning

Point-and-click data display

Customizable Microsoft

®

Excel reporting

Thematic data display

Customizable layer configuration

User- and organization-level security

Seamless product and data updates

Benchmark comparison reporting

Highly-rated customer sup

port
POWERFUL REPORTING
Magnify has an extensive suite of the reports you need the most.
Pitney Bowes®

Business Summary Reports

Consumer Expenditure Reports

Financial Wealth Reports

(CAN Version includes) Canada Detailed Food Expenditure Reports (CanFoodEx)

(CAN Version includes) Canada Household Facilities and Equipment Reports (CanHFE)

(CAN Version includes) Disposable and Discretionary Income Reports

MicroBuild® Distribution Reports

MicroBuild

HD

– Household Demographics

MicroBuild® Distribution Reports (US Version)

MicroBuild

HE

– Household Ethnicity
Use Magnify to:
Research new and existing locations

Quickly assess market potential

Import and analyze your own data

Share information with clients and colleagues

Complement desktop software (Pitney Bowes AnySite®

and MapInfo

®

Professional) with a cloud hosted application that reports the same information
Research new & existing locations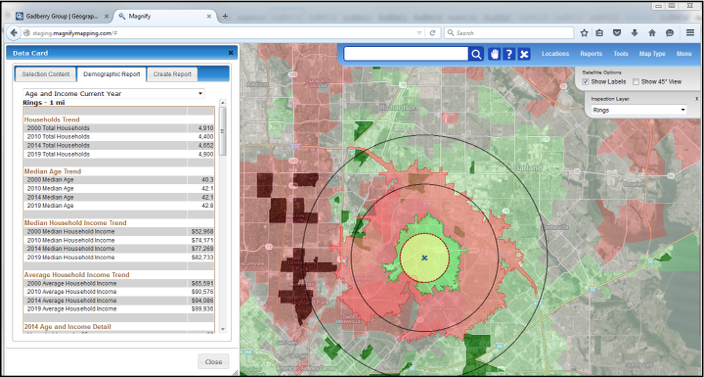 Quickly assess market potential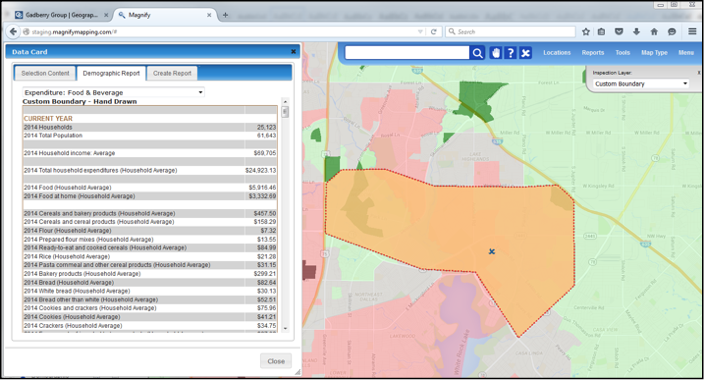 Import & analyze your own data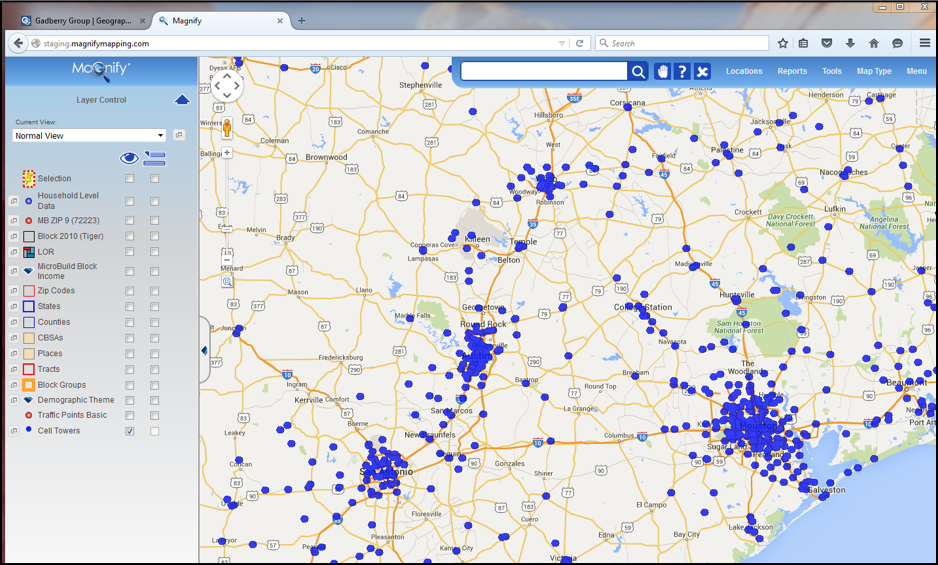 Magnify helps hundreds of users make better decisions…
Commercial Real Estate

Helps market properties to new and existing clients

Retail

Equips field staff with the same data corporate real estate analysts use

Enables franchisees to find optimal locations

Economic Development

Helps promote local markets to incoming retailers
Powerful Advanced Features
Batch Geocoding

Up to 1 million address points

TomTom Streets or Pitney Bowes Centrus Points

Multi-Function Batch Workflow

Multiple Study Areas

Ring (up to three)

Drivetime (up to three)

Donut (up to three)

Capture

Comprehensive and Flexible Reports

Geography Joiner

Join Multiple Geographies

Create Custom Study Areas

File Uploading and Export

Excel (.XLSX, .CSV)

MapInfo (.TAB)

Esri (.SHP)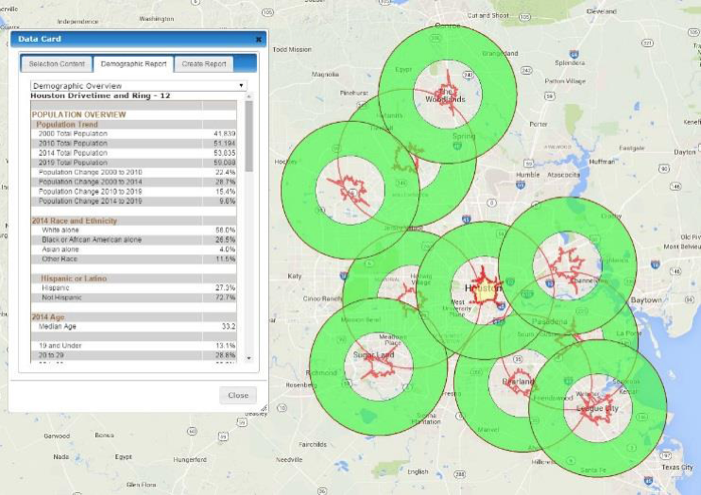 Four Editions Available
BASIC EDITION
STANDARD WITH ALL EDITIONS
Interactive Map Visualization
Google Maps (Street, Street View, Satellite, Terrain, Aerial and Points of Interest)

Comprehensive Map Tools (Zoom In/Out, Box Location Draw, Pan, Distance Tool)

Personalized Map Preferences (Layer, Point, Polygon, Label)

Toggle On/Off Layer Control

Location Manager

Drop Location on Map

Static Blue Dot for Current Location

Single Address Search with Static Location Marker (Google Search)

Create Single Points and Ring Study Areas

Custom Hand-Drawn Study Area

Comprehensive Thematic Layers
File and Content Management
Upload and View AnySite (.SIT) Files
Reports
Microsoft Excel Format (.XLSX, .CSV)

Customizable Report Template

Extensive List of Standard Reports
BUSINESS EDITION
INCLUDES BASIC EDITION PLUS
Interactive Map Visualization
Create Drivetime Study Areas

Banded (Repeating) Study Area Style for Rings or Drivetimes

Traveling Blue Dot for Current Location
File and Core Content Management
File Upload Manager – Upload Data for Visualization (.XLSX, .CSV, .TAB, .SHP)

File Download Manager – Download Geographic Data (.CSV, .TAB, .SHP)

Batch Geocode and Save as a Layer Workflow

Publish custom layers to other Magnify users (sold separately)
Reports
PROFESSIONAL EDITION
INCLUDES BUSINESS EDITION PLUS
Interactive Map Visualization
Layer Search – Quickly Zoom to Location

Geography Joiner – Easily create Custom Boundaries on the Map
File and Core Content Management
File Download Manager – Download Demographic Data (.CSV, .TAB, .SHP)

Create Donut and Capture Study Areas

Comprehensive Batch Workflow, including

Geocode (Large) Including Download of Geographic Data

Geocode, Save as a Layer, Create Study Area

Multi-Action Workflow – Geocode, Save as a Layer, Study Area, Reports
Reports
Premium Benchmark and Hi-Resolution Map Reports

Flexible and Comprehensive Demographic Workflow Reports
VIEWER EDITION
AVAILABLE AS PURCHASE WITH BUSINESS OR PROFESSIONAL EDITION
The perfect companion edition for users who have limited GIS experience

View and take action on published content for better business decisions

Comprehensive Map Visualization capability

Does not include Demographic or Geographic data (boundaries)