Given latitude & longitude coordinates, what is the nearest address?  And what else is nearby?  Realtime and batch services. Or license the raw data and/or software.
Get Expert Advice on Reverse Geocoding
In the most common usage, Reverse Geocoding takes a pair of latitude/longitude coordinates (such as 41.852180, -87.950564) and returns the address. (FYI, the coordinates listed are for one of the entrances to the Nordstrom store at Oak Brook Center in Oak Brook, Illinois, outside of Chicago. For reference, Geocoding takes an address or another type of description for a location and provides the latitude/longitude coordinates.) 
If you have coordinates and need the address, our services and software can find the correct address – either in real-time via web services or in batch.
There are many business processes that need the address.  The most obvious is 911 service.  In the past few years, probably the next most obvious use is for Uber and Lyft-type services.
There are also uses in retail, marketing, advertising, credit card transaction processing, fraud, wireless network optimization, homeland security, uses by data scientists, etc.
The explosion of use cases and a need for accuracy and consistency has created a demand for "better" results.  In some cases, it's not just the correct address that is needed, but information about the location itself, what is nearby (points of interest, etc.) and the demographics.
In this image, there are people in both the theater and the police station.  Lower quality/simplistic reverse geocoders might return the wrong information – such as theater-goers being in the police station.
Note, also, that with more advanced options, the people at each location (theater and police station) can be pinned to those specifically-named locations.  In other words, for some applications, the address is good enough, but in others, knowing that the people/devices are at specific locations or types of locations is useful.
Types of locations might include malls, individual stores, stadiums, schools, hospitals, etc. – using a standard classification system. Additionally, locations that are residential can be identified.
Consistency and Quality Are Important
It should be emphasized that consistency and quality are important for many applications, especially for where the data is used downstream and in data science, predictive analytics and big data applications.
Geographic Coverage:

Reverse Geocoding is available for 150 countries at the Street Level or better (parcel or building) and a total of 250 countries at varying levels of resolution.
Deployment Options:
As a web service for instant responses
As a web service for batching many records at once
As a portal/cloud-based application where you can manually upload files for processing. MapMarker.
As part of the Spectrum, Precisely's premier Platform for Enterprise Geocoding, Data Quality, Data Management and Data Governance. system
We also license the raw data for your own processing. Datasets include:
• Raw street databases with address information and dozens of layers of geographic features, points of interest, etc. (Available for many countries)
• Address Fabric – which is a point database of every address in the US, including hard-to-find addresses that are not deliverable by the USPS.
• Parcel boundaries with many attributes, including links to assessor information.
• Vast Points of Interest databases
• Many boundary databases such as schools, neighborhoods, postal boundaries, world country boundaries, wireless coverage boundaries, etc.
You are on the Reverse Geocoding Page in the Software-as-a-Service (SaaS) Section….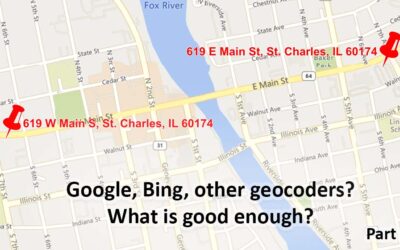 Are the geocoding tools in Google, Bing, etc. good Enough? Part 1 Note:  This is the first of a series of articles contrasting the approach of many geocoders, especially Google's and Bing's offerings, with enterprise/professional geocoding. When Google introduced...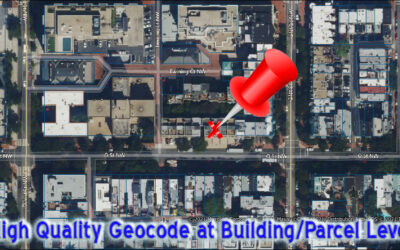 Geocoding Basics What is geocoding? Simply, it's the process of matching a location such as: an address ("Street-level geocoding") postal (ZIP) code ("ZIP-Level or Postal-Level geocoding) city name ("City-Level Geocoding, not used as much anymore) county name,...
One of our goals in communicating to you is to provide the most important information that helps you identify the signal and the noise. Think of listening to a radio station with static. The static is the noise and the voices or music are the signal. Our brains do a great job of filtering audio and there are tools to draw out the signal and suppress the noise. This blog is about focusing on the signal for various topics and, when possible, we'll describe the noise. Unlike the radio static that is random, some of the noise in the marketplace may seem like signal, but it's not.