The best Carrier Route data.
Used for direct mail, EDDM-like applications, territory building, door-to-door canvasing, analysis, etc.
Get Expert Advice on Carrier Route Data
Carrier Routes are the areas where individual US Postal Service carriers deliver mail.  They are much smaller than ZIP Codes, with roughly fifteen Carrier Routes per postal ZIP Code in urban areas. They have several uses.

They are useful to reduce direct mail marketing costs (via maximizing USPS discounts) while increasing response rates (via better targeting.)

 

The use of Carrier Routes helps to keep your market in focus to efficiently define target market areas to send mail.  Oftentimes, they are used in saturation mailings.
Or, the data can be used in browser-based applications, such as Every Door Direct Mail (EDDM) applications.  Printing and marketing companies often use this data.
The data can be used in desktop mapping software such as MapInfo Professional, Esri ArcGIS, etc., for analysis, mailings, demographics, etc. (We call these Knowledge Worker Applications.)
Carrier Routes can also be used as building blocks to create territories for tasks such as canvasing and other door-to-door visits.

 

See the "What Are Carrier Routes" Explainer below.
Besides supplying the data for direct use, SpatialPoint often supplies Carrier Route data to printers and marketing firms building web-based applications that use this data – e.g. custom EDDM-like applications.
The Carrier Route product ships with several databases:
Carrier Route boundaries
Carrier Route points
ZIP Code boundaries
ZIP Code points
We also supply a full range of demographic variables that will "plug" right in for use.  Some examples are: 
number of households,
number of households by ethnicity,
population by age group,
households by income,
households by family size,
population by educational attainment,
population by type of employment,
population by commute mode of travel,
number of vehicles,
Many, many more variables are available
The data can be shipped in MapInfo TAB, KML or SHP formats.  The data can be converted to other formats such as GeoJSON.
The USPS often makes changes so the route data must be kept up–to-date. Our boundaries are updated quarterly.
Some Words on Quality…
One of the issues with Carrier Route and ZIP Code data is the USPS does not create, maintain nor supply the boundaries.  Vendors have to build the boundaries and it's an involved process. SpatialPoint has been working with this data for over 15 years and the data we supply is high quality and expertly QA'd.
Screenshots (Keep clicking to cycle through the images; notice the caption at the bottom of each image in the Lightbox):
What Are Carrier Routes?
A postal carrier route is the group of addresses to which the USPS assigns the same code to aid in efficient mail delivery. These codes are 9-digits: the first five represent the ZIP Code, one letter for the carrier route type (R for Rural), and 3 numbers for the carrier route code. For example "60018C017" or "46383R018." Typically, each carrier route is related to where a particular mail carrier delivers.
There are roughly 250,000 carrier route boundaries in the United States. With approximately 31,000 ZIP Code boundaries in the US, this averages out to about 8 Carrier Routes per ZIP Code. In urban areas, it's more like 14 to 15 Carrier Routes per ZIP Code.  It ranges from one to over 60 Carrier Routes per ZIP Code.
Our data includes Carrier Route boundaries, Carrier Route points and ZIP Code Boundaries and Points – each in separate tables.
Associated with each Carrier Route are many fields. See the spreadsheet image above for a sample.  Some of the fields are counts of single family dwelling units, multiple family dwelling units (apartments, condos, etc. ), businesses and boxes.
What are the differences between ZIP Codes, ZIP+4s and Carrier Routes?
Carrier Routes generally "roll-up" into ZIP Codes. The boundaries of ZIP Codes and Carrier Routes to not cross or intersect, etc.  In some areas of the country, especially in the rural, mountainous, West, some ZIP Codes are not completely covered by Carrier Routes.
ZIP+4's are used by the Post Office to sort and deliver mail. They are the last four digits on a nine-digit full ZIP Code.  The 5-digit  ZIP Code defines the post office and/or delivery area and the ZIP+4's identify specific locations – such as city blocks, a group of apartments, an individual high-volume receiver of mail, a post office box, or any other unit that could use an extra identifier to aid in efficient mail sorting and delivery.
Besides Carrier Routes, SpatialPoint licenses ZIP boundaries and ZIP+4 point databases.
Also See…
Desktop Mapping
Demographic Analysis/Site Selection
More on Geocoding from our Blog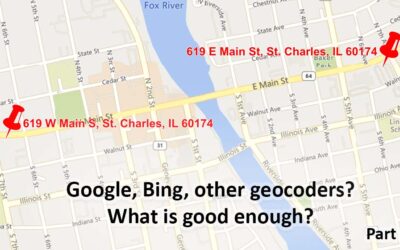 Are the geocoding tools in Google, Bing, etc. good Enough? Part 1 Note:  This is the first of a series of articles contrasting the approach of many geocoders, especially Google's and Bing's offerings, with enterprise/professional geocoding. When Google introduced...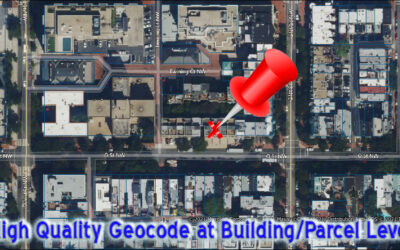 Geocoding Basics What is geocoding? Simply, it's the process of matching a location such as: an address ("Street-level geocoding") postal (ZIP) code ("ZIP-Level or Postal-Level geocoding) city name ("City-Level Geocoding, not used as much anymore) county name,...
One of our goals in communicating to you is to provide the most important information that helps you identify the signal and the noise. Think of listening to a radio station with static. The static is the noise and the voices or music are the signal. Our brains do a great job of filtering audio and there are tools to draw out the signal and suppress the noise. This blog is about focusing on the signal for various topics and, when possible, we'll describe the noise. Unlike the radio static that is random, some of the noise in the marketplace may seem like signal, but it's not.