​MapMarker Online

MapMarker is the preeminent batch geocoding tool for the cloud! MapMarker Desktop was a workhorse desktop geocoding tool for over two decades.  Thousands of users relied on it – from marketing to sales organizations to routing and logistics companies to real estate to insurance to healthcare to data scientists (before they were called data scientists) – virtually any and every type of company.  NOW, MapMarker lives in the cloud. Upload your file, select a few options and the system will do the work, notifying you when it is complete.  You have control over many settings.
Here are some features:
Support for uploading of CSV, SHP and TAB files.
File templates to help you create an input address record file
Support of an input address record file that contains addresses or Latitude/Longitude from multiple countries
Options to customize input fields for matching
For US addresses, the County, Census Block and USPS DPV information, including if an address is vacant or not vacant is also returned.
Worldwide geocoding coverage (see country list)
Return of the most accurate geocode available for every address
Supplied streets and points global reference data
Address cleansing and standardized address output
Email notification when your geocoding job completes
Dashboard allows control of jobs, admin functions and user management
Need APIs rather than a user interface to upload files, then click to look at our SaaS (Software as a Service) geocode offerings.
Security and Privacy of MapMarker
MapMarker only requires an address to perform a geocode. Data uploaded to the system is encrypted. The addresses are decrypted while geocoding on a secure subnet. Contact us for solutions that are not-cloud-based.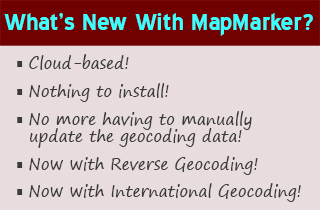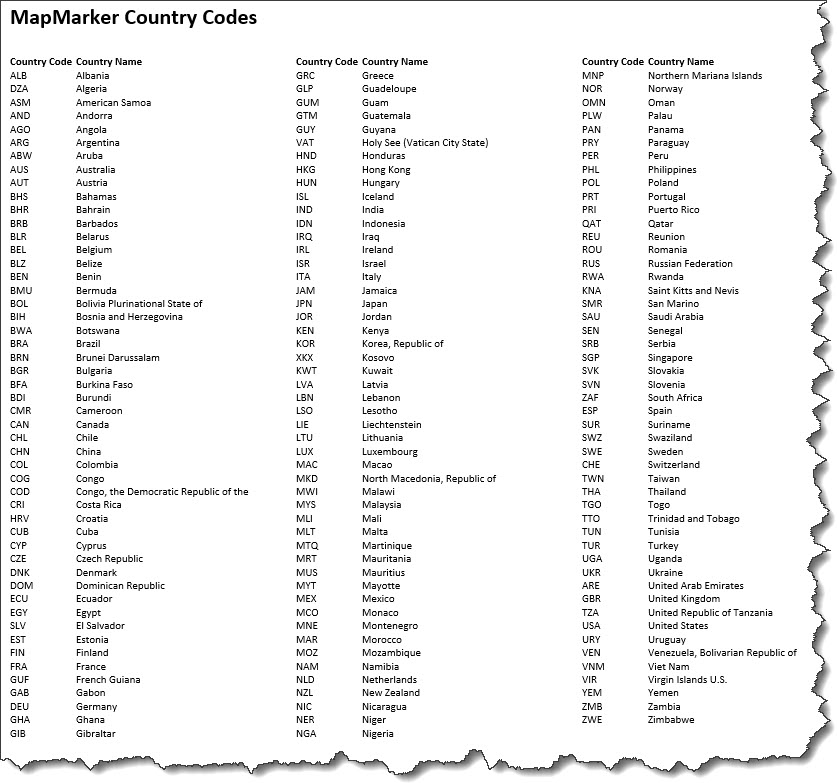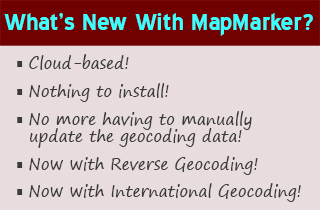 Also…
Other geocoding products…
Desktop Mapping
Demographic Analysis/Site Selection
Results File Screenshot (use the horizontal scroll bar):
Results File Screenshot (use the horizontal scroll bar or your finger):

Other related products….
Other geocoding products…
Desktop Mapping
Demographic Analysis/Site Selection
Questions, want to know more?  Contact us at 847-772-6952 or fill out the contact form on this page.
More on Geocoding from our Blog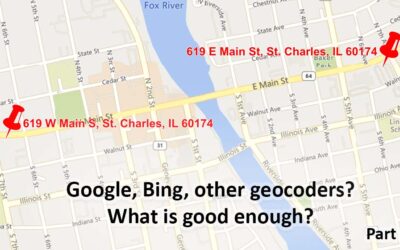 Are the geocoding tools in Google, Bing, etc. good Enough? Part 1 Note:  This is the first of a series of articles contrasting the approach of many geocoders, especially Google's and Bing's offerings, with enterprise/professional geocoding. When Google introduced...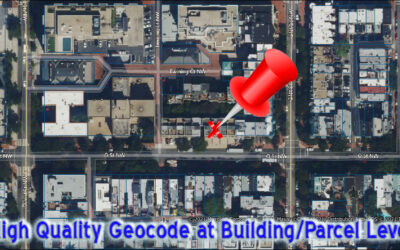 Geocoding Basics What is geocoding? Simply, it's the process of matching a location such as: an address ("Street-level geocoding") postal (ZIP) code ("ZIP-Level or Postal-Level geocoding) city name ("City-Level Geocoding, not used as much anymore) county name,...
One of our goals in communicating to you is to provide the most important information that helps you identify the signal and the noise. Think of listening to a radio station with static. The static is the noise and the voices or music are the signal. Our brains do a great job of filtering audio and there are tools to draw out the signal and suppress the noise. This blog is about focusing on the signal for various topics and, when possible, we'll describe the noise. Unlike the radio static that is random, some of the noise in the marketplace may seem like signal, but it's not.