AnySite
AnySite is a desktop, geo-demographic, decision support tool perfect for the retail, restaurant, real estate, and financial services industries.
AnySite is the essential decision-support solution for analysts and executives looking to uncover the relationship between trade-area geo-demographics and site potential or performance.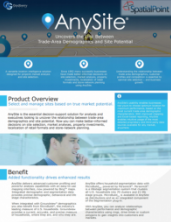 Use AnySite to choose optimum locations and analyze current locations based on the most current trade-area demographic reporting characteristics.
It is designed to provide analysts and marketers new location, customer multi-site trade area and market insights.
AnySite enables intuitive usage of the most detailed proprietary and third-party data sources available in the market.
And with the AnySite Segmentation Plug-In utilizing MicroBuildHS® household segmentation data, you can develop deep understanding of who your best customers are, where they are in your trade areas, and use profiles of those best customer segments to attract new customers.
AnySite is available for the US and Canada.
---
Powerful & Easy To Use Platform
ENHANCE YOUR BUSINESS WITH DEMOGRAPHIC REPORTING & PRESENTATION QUALITY MAPPING
Access critical demographic information for site analysis. Ideal for non-technical users in commercial real estate, retail financial services, and economic development.
Quick-view Reporting makes reporting on sites simple.  Reports can be delivered using Excel.
Create custom thematic shade maps based on standard variables or custom user-defined variables.
Generate market analyses quickly and easily for internal or client meetings
Develop detailed understanding of key customer segments across your current and potential trade areas
Easy to use, requiring very little knowledge of GIS applications.
TAKE ADVANTAGE OF THE BEST LOCATION CAPABILITIES
Make better decisions with powerful site selection capabilities
Gain valuable insights to the demographic and competitive landscape
Highlight information with thematic mapping and layer control
Focus marketing based on consumer behavior and lifestyles with Groundview® demographics and MicroBuild® household life stage segmentation data available through the Segmentation Plug-In. Traffic counts, aerial imagery, and consumer expenditure data can also be added.
SEAMLESSLY INTEGRATE LOCATION INTO EXISTING BUSINESS PROCESSES
Make better informed decisions based on visualization of key data and location information
Easily import most proprietary or third-party databases
FEATURES
Data integration allows you to connect, retrieve, report and map information from proprietary or third-party data sources.
Create and integrate MapInfo Professional workspaces
AnySite can be pre-packaged, based upon your needs, with out of the datasets to get you up and running quickly.
Easily export your reports in a number of file formats (i.e., dbf, tab, Excel).
Easy to deploy with various configurations.
Offers batch processing capabilities
Using AnySite, industry professionals can analyze the relationship between site performance and market trade area geo-demographics. The demographic variables pulled from the AnySite Data Engine (ASDE) can be aggregated from the block group, census tract, ZIP Code, county or state levels.