Quality data is the foundation for solid analysis and critical for data enhancement.  The SpectrumTM Technology Platform from Pitney Bowes offers enterprise scalability and centralized configuration and management to help you improve the quality, integration, accessibility and value of your information. It includes components, modules and applications that easily integrate with each other as well as your core CRM, ERP and legacy systems. Developing an accurate, single view of your customers allows you to improve customer relationships and create targeted offerings that generate better returns. These modular solutions enable organizations to optimize the performance of existing enterprise applica­tions, improve business processes and drive more intel­ligent decisions.
Spectrum Universal Addressing Module
Save time and meet customer needs with accurate address information you can rely on.
Spectrum Universal Addressing Module (UAM) is easy to use and works with the Spectrum Technology Platform for additional address validation, correction and standardization. With central administration and consistent display, UAM can help you improve your company's communications.
UAM's sophisticated features ensure your customer address verification processes are efficient and effective.
Powerful address verification capabilities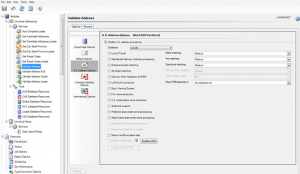 The Spectrum Universal Addressing Module is powerful enough to handle all of your address verification and standardization needs. Capable of verifying addresses in more than 220 countries in real-time situations, it can automatically recognize data by country, and can even confirm primary house numbers and apartment numbers.
The address verification software ensures that your data is correctly formatted and validated, and can handle multi-national characters and apply casing so you can personalize your marketing communications.
Flexible, advanced architecture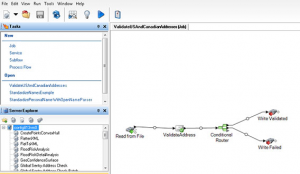 UAM features advanced architecture,which enables you to use data quality services within your organization or via hosted services. A highly scalable solution, the module supports Java, COM, C, .NET and C interfaces, and can be used for address verification on your business's website ordering system as well as in a call center environment.
Simple to use for employees and customers
The Spectrum Universal Addressing Module is designed with the user in mind, so it's simple to use. With straightforward navigation options and excellent support functions, it's the perfect option whether you want to use it within your call center or integrate it with your online ordering system.
Spectrum Universal Name Module
Flexible name parsing capabilities to match, standardize, analyze or consolidate even complex records with confidence
Getting your customers' names right is essential to inspiring their trust in your company. There are many hazards when it comes to recording a name accurately – with joint ownership legal entities nicknames and typing errors all falling into the mix. Adding to the confusion is the variance in your contacts titles and job functions within a company – so simplify with name matching and standardization software.
Make sure you get the details right every time with name matching and data improving software – keeping customers and business associates happy and saving your business time and money.
Benefits of name matching software
The Universal Name Module is part of our Spectrum Technology Platform and is an excellent tool to ensure your company databases are correct and updated. No matter how complex your database, the name matching software offers flexible parsing capabilities that can optimize your records in the following ways:
Match
Standardize
Analyze
Consolidate
Top features of name matching
There are a number of easy to use key features of name matching software which can assist you in creating an accurate and up to date database of customers to help your business. These include:
Name Matching
Sophisticated Parsing – Enhance your existing data files by transforming them into a range of usable data fields
Data Formatting – String data together and build a clean record format
Name Separation – Organize names by title, first name and surname, etc.
International Knowledge Base – Full access to cultural database
Name Variants – Identifies typing errors, alternate spellings and abbreviations
Features
Our Spectrum Universal Name Module includes some excellent features making it the perfect name matching solution if you want to ensure your business is using accurate standardized data.
Exceptional name matching capabilities
The Spectrum Universal Name Module is a powerful name matching software solution and enables you to improve the quality of your in-house data and ensure that the data contained in any mailing house lists that you've purchased is both accurate and high-quality.
This sophisticated name matching software can clean up your records and locate names within your database which would otherwise go un-matched as a result of typographical errors, letter substitutions, alternate spellings and abbreviations. Furthermore, it could provide you with gender and ethnicity information to help you develop targeted marketing campaigns and communications.
Flexible and fully customizable
Name matching software is flexible enough to suit the needs of any business. Its superb functionality means that you can string data together to create clean records, break up your existing data into new usable fields, or organize your data according to specific criteria such as by first name surname or business title.
You can also create your own list of terms and use it to carry out name matching and data extraction functions.
Local and international name matching features
The Spectrum Universal Name Module is the perfect name matching software solution for businesses with global client bases. It supports name matching against millions of name variations in 204 countries and optional name libraries which include Arabic and Asian names.
Spectrum Enterprise Geocoding Module
Analyze geographic data and improve business decisions the across the USA, Canada and Australia
Whatever area you specialize in, the Spectrum Enterprise Geocoding Module can help your business in a number of ways. With precise location data, you can calculate the distance between two points, determine eligibility or locate potential marketing targets.
Improve your business data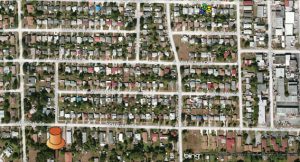 The Spectrum Enterprise Geocoding Module works with you in a unique way to improve the geographical data on which your company relies. Utilize the address geocoding feature to help you to find exact geographical locations by inputting an address and receiving a location, or alternatively inputting latitude and longitude or APN and receiving an address.
Precise location intelligence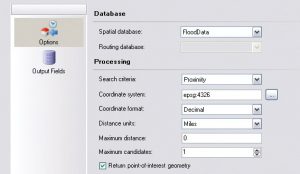 The Spectrum Enterprise Geocoding Module uses street addresses and postal codes, as well as intersection, road segments, named place and APN data to ensure that you get the most accurate data location possible, quickly and easily.
With address geocoding software, you can:
Access data for locations in the United States, Canada and Australia
Geocode locations and correct erroneous addresses with parcel level precision
Obtain geo-coordinates from the point and parcel level right down to street interpolation and postal centroid level
Reliable national and international data sources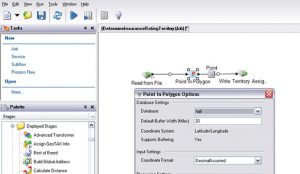 The Spectrum Enterprise Geocoding Module uses a wide range of up-to-date, reliable data from major sources including TIGER, Tom Tom, NAVTEQ and Centrus Points. It combines this information into a single data set, using a process called conflation. This process has significant advantages, resulting in more matches and fewer false positives.
The software also enables you to distinguish street address matches from postal code or geographic centroid matches just by looking at the result code.
Efficient and great value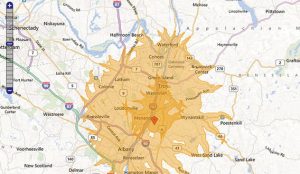 The Spectrum Enterprise Geocoding Module is fast and efficient, giving you the ability to process customer data more efficiently.
It's extremely cost-effective — and unlike postal codes, longitudes and latitudes never change. Use the address geocoding software to link to Permanent Location Codes to your enterprise data, you can be sure that your geographic reports will be precise and relevant, now and for the future.
Spectrum Spatial Analyst – Web GIS Application
Web based mapping, GIS and analytics designed to provide users with comprehensive location insights.
Every day, analysts tap into the power of Location Intelligence. They are finding new ways to uncover business insights to gain a deeper understanding of the relationships between people, places and things. Enable your organization to take full advantage of this intelligence so you can side-step risks, attract new customers, identify new opportunities, and make better decisions.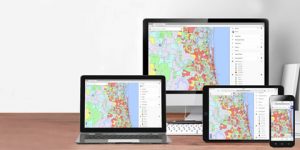 View spatial insights from any device, enabling organizations to achieve efficiencies and cost savings while better serving customers, citizens, employees and other key stakeholders.
Spectrum Spatial Analyst Features

Generate value immediately.
Spectrum Spatial Analyst is ready to use and designed to deliver rapid ROI.

Accessibility across devices and platforms.
Deliver web mapping, mobile mapping, querying, and analytical capabilities to current desktop browsers on popular mobile touch devices –  iOS, Android and Windows.

Enriched customer experiences.
GIS & mapping and location-enabled services can be shared with customers and citizens via a browser-based interface that improves satisfaction, loyalty and facilitates self-service.

Collaboration support.
For better decision-making, business users can harness current, accurate and comprehensive Location Intelligence data across their organization.

Greater productivity.
Provide cost-effective access to Location Insights to all of the employees and executives who require them. This accelerates business performance and velocity.

Swift implementation and integration.
Spectrum Spatial Analyst is an out of the box, browser-based web GIS application that installs in moments. Our API's offer easy customization and integration with existing applications.

Reliability and Scalability.
Spectrum Spatial Analyst is designed for scalability for  corporations of any size. Easily accommodate more users with complex GIS and spatial data sets and imagery.

Security.
User or role-based access ensures that your users only have access to the information that they have permissions for.
Benefits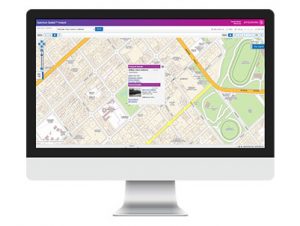 Access from any device
View spatial insights from any device to ensure organizations achieve efficiencies an cost savings.
Extensible and customizable
Spectrum Spatial Analyst is easily tailored to fit your business requirements and processes.

Develop custom interfaces
Create user-friendly templates
Integrate new functionality via APIs and custom code
No GIS experience required
Anyone can quickly and easily access the location insights they require to make better decisions.
Powerful experiences across all devices
Everyone from business executives and analysts to front line workers and customers can access, update and visualize the most up-to-date maps— anytime, anywhere and on any device
Specifications
Rapidly share insights
Generate business insights through an easy-to-use web GIS application
Designed for occasional users or non-GIS experts
Reduce the burden on your GIS staff
Put the power back in the hands of your business analysts with critical GIS and spatial data information and spatial analysis capabilities
Scale to support your organization in a flexible, efficient manner
Deploy powerful spatial capabilities at a lower cost and at a lower-risk
Extend the power of Location Intelligence, data, Geographic Information Systems (GIS) and expertise of your GIS and mapping professionals across your organization
Eliminate costly redundancies
Eliminate redundancy while improving both productivity and business performance by removing data silos
Streamline operations
Easily deploy and maintain solutions in line with changing business needs and requirements
Spectrum Enterprise Routing Module
Calculate routes, determine points within a boundary, and move goods from one point to another at the lowest possible cost.
Travel routing helps businesses improve location analysis and increase driving efficiency. With the Spectrum Spatial Enterprise Routing Module you can enhance delivery networks, identify key target markets and determine store network locations as part of a gravity model. You can also assess a location's risk by its accessibility to emergency services vehicles.
Find the nearest route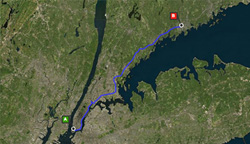 The difference between real world route travel distance/times and a straight line can be considerable. Spectrum Spatial helps organizations find the most accurate, nearest locations, taking into account physical barriers such as rivers or mountains as well as sparse transport networks in rural and semi-rural areas.
Identify route options and generate directions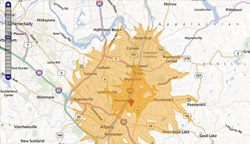 The Enterprise Routing Module offers support for determining shortest and fastest routes and calculating distance or time for walking/driving networks. This enables organizations to apply business priorities within the server. Improve delivery times, conserve fuel and reduce vehicle wear with turn-by-turn directions, including way points and route geometries.
Calculate travel boundaries, times and distances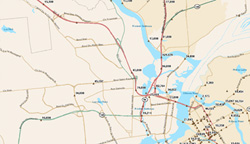 Calculate travel boundary isochrone / isodistance polygons to help your organization determine areas that can be reached within a desired time or distance along a travel network. Travel boundaries enable you to increase efficiency and provide information for targeting and service eligibility. Calculate the travel time and distances between single or multiple start and end points. You can route from one point to another point, or from one point to multiple other points, enabling multiple options to be rapidly tested.
Data Coverage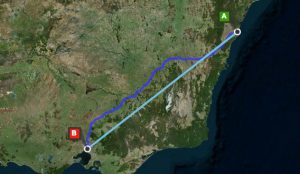 The Enterprise Routing Module offers off-the-shelf data packs including more than 25 country travel networks.
Specifications
Rich Routing Capability
Find shortest or fastest routes for walking/driving
Find travel distance or time
Find the nearest locations by route distance
Generate turn-by-turn directions
Generate route polygons
Calculate travel boundaries
Determine travel time/distances for one or many locations
Apply dynamic network constraints
Integrating Routing In Applications
Find shortest or fastest routes for walking/driving
SOAP/REST Web Service APIs – Integrate routing into business applications using SOAP or REST Web Services
Create and publish data flows as web services ,incorporating route based analytics via visual drag-and-drop flow diagramming in the Enterprise Designer
Create large scale batch processes incorporating route analytics
Augment databases with routing-derived values, adding routing insight to non-spatial systems
Use built-in data integration to databases, web services, file and XML data sources to read input and store output results
As part of the Spectrum Technology Platform, the Enterprise Routing Module can be combined with any module in the platform including the Enterprise Geocoding Module and the Location Intelligence Module
Travel Route Network Data Packs
Support for >25 country road and footpath data packs
Custom data packs are available upon request and can be used to extend geographical coverage and support specialist network configuration
Supported Operating Systems
Microsoft Windows Server 2003 & 2008 (64bit)
SUSE Linux 10 & 11 (64bit)
Red Hat Enterprise Linux 5 & 6 (64bit)
Oracle Solaris 9 & 10
HP-UX v11iV3 (Itanium)
AIX 6.1, 7.1
Spectrum® Location Intelligence Module
Enable smarter business decisions with Location Intelligence
Gain highly accurate location-based insights designed to fuel better business performance. Benefit from powerful address geocoding and efficient enterprise routing. Reduce risk and improve both operations and customer satisfaction.
Transform location insights into intelligence

 Improve planning
Visualize opportunities. Understand risks.

Inform decision-making
Increase precision. Enrich insight.

Boost operational efficiency
Automate analysis. Streamline results.

Increase savings.
Reduce waste. Reduce wasted effort.
Interactive mapping and spatial analysis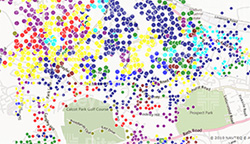 Rapidly create interactive mapping and spatial analysis web sites using rich internet application (RIA) user interface components and web services (SOAP, REST, OGC). Deliver powerful applications for public internet, partner and corporate intranet web sites, with support for mapping for visualization and analysis, comprehensive spatial query and geometry calculations.
Analytical mapping visualization

Use the extensive range of analytical mapping visualization in Spectrum to successfully communicate a clear common operational picture. Integrate mapping and spatial analysis into business systems such as Business Intelligence (BI), Enterprise Intelligence (EI), Customer Relationship Management (CRM), Enterprise Resource Planning (ERP) and supervisory control and data acquisition (SCADA) to improve decision making.
The Spectrum Spatial Location Intelligence Module allows you to increase efficiency through spatially enabling business analysts existing working environment, and reducing the reliance on scarce GIS analyst resources.
Operational Location Intelligence
Use Operational Location Intelligence to deliver efficiency improvements and apply spatial intelligence directly within human-free, straight through processes and automated business decisions. Operational Location Intelligence enables spatial business rules and logic to be embedded within operational systems and frees the organization from costly overheads of manual spatial analysis processes in workflows. By reducing manual analysis workloads to exception handling only, business rules are applied more consistently and faster decisions can be made in support of real time responses.
The Location Intelligence module provides support for visual point-click design of data flows for operational location intelligence, decreasing the time to value and increasing the flexibility to rapidly adapt the logic and rules to changes in business.
Integrate business data with GIS data

Bring business data and GIS data together using built in spatially enabled visual data integration, enabling organizations to rapidly expose the value of hidden location with their data assets. Integrate data in GIS formats and spatial databases with business data in XML files, web services and RDBMS, removing domain data silos and simplifying the spatially enabled IT organization. Transform business data from multiple systems to build spatial databases. Create data flows for batch and web service based transaction data integration.
Use spatial data integration to augment business databases with spatially derived data values extending the value of spatial intelligence to more difficult to access systems.
Build geospatial application databases to support interactive mapping and spatial analysis applications for web and desktop clients.
Interoperability
Share maps and data through certified Open Geospatial Consortium (OGC) Services for web mapping (WMS), feature (WFS) and cataloguing (CSW). Reuse the same data and maps via SOAP and REST interfaces to support integration with other IT systems and middleware enabling both IT and GIS trained resources to access spatial capability.
Part of the Spectrum Platform
The Location Intelligence Module is part of the Spectrum platform. As such it can be used with any of the modules in the platform and shares a common management and flow design environment simplifying administration.
The Location intelligence module is part of the Spectrum Platform Spatial Solution encompassing the Location Intelligence Module, Enterprise Routing Module, Enterprise Geocoding Module and GeoTex Module. In addition to spatial capability a broad range of business data quality and management capability is available.
Specifications
Spatial Capability
Access spatial capability via RIA controls, Web Services (SOAP, REST, OGC) and Data Flows
Mapping

Generate maps including cartographic, aerial and analytical mapping
Generate legends
Tile Maps

Generate map tiles from business or base mapping data
Utilize built in caching to deliver high performance seamless maps user experience

Feature Query

Query features from any data source(s) using spatially enabled MapInfo SQL (SQL 92 MM)
Rich SQL support (SQL 92 MM) including comprehensive WHERE clause, grouping, sorting, joins and 100 functions
Built in paging support
Geometry Operations

Measure Geometries (length, area, perimeter, distance)
Transform Geometries between coordinate reference systems
Manipulate Geometries (Buffer, Convex Hull, Envelop, Intersection, Union, Difference, Symmetric Difference)
Determine Geometry Relationships – (Contains, Envelopes Intersect, intersects, Within (including point in polygon), Equals, Validate)
Cataloguing – geographical metadata cataloguing including discovery and management
User Defined Logic Services (Data Flows) – use transactional data integration to create spatially enabled logical web services and batches.
Administration
Enterprise Designer – Visual drag and drop flow diagramming style designer to create data flows for transactional and batch data integration.
Management Console – Administer users and permissions, manage server content and data, manage server and service configuration and logging.
Administration APIs – user and permissions management and server content management.
Security
Secure web services and content
Support for SSL
RIA Controls and Javascript API
Rapidly integrate location intelligence and mapping functionality within applications
Display business data over popular base mapping services such as Google Maps and Bing Maps
Consume and display OGC WMS and WFS services.
Out of the Box User Interface Controls:

Map Control (Open Layers 2.10) – visualize and interact with data via the map
Layer/Legend Control – Display available layers and control their visibility
Templating for Feature Service Results – bind the results from feature services into tables, grids, lists and much more
Pure Javascript/HTML/CSS thin client technology
Web Services
Build spatially enabled applications
Integrate spatial logic into business processes
Support for developer and interoperability focused web service interfaces:

SOAP (WS-I Compliant)
REST
OGC Web Services (Certified)
SDK support for .Net and Java.
Data Integration
Integrate spatial data with business data using a visual data design tools
Integrate within databases, web services, file and XML data sources
Prepare spatial databases
Rapidly build location data integration and augmentation processes
Publish data flows as transactional web services (SOAP/REST)
Publish batch data integration (scheduled and watch folder)
Compatible with all Spectrum Technology Platform Spatial, Data Integration and Data Quality Modules
Data Packs
MapInfo Street Pro data packs are available
Spectrum Spatial Location Intelligence Module is compatible with Pitney Bowes data products.
Certified OGC Web Services
Web Map Services 1.1.1 & 1.3
Web Feature Services 1.0
Catalogue Services For Web 2.0.2
Supported Data Sources
Web Map Services 1.1.1 & 1.3
Oracle 10g & 11g (locator only required)
Microsoft SQL Server 2008
PostGIS 1.5.2
XY Tables (JDBC)
Non Spatial Tables (JDBC)
MapInfo TAB File
ESRI Shape file
Autodesk SQLite FDO
Raster Formats (ECW, MrSID, GIF, JPEG/JPEG 2000, TIF, PNG, BMP)
Grid Formats (NTIF, MapInfo Grid, Northwood Grid, DTED, CADRG, ADRG, CIB)
Cartographic Text (MapInfo TAB File, Autodesk TextTable*)
Custom Data Sources – Data Provider SDK
Supported Browsers
Microsoft Internet Explorer 8 & 9
Mozilla Firefox 10 & 11
Google Chrome 17 & 18
Safari 5 (Mac OSX only)
Supported Operating Systems
Microsoft Internet Explorer 8 & 9
Microsoft Windows Server 2003 & 2008 (32bit and 64bit)
SUSE Linux 10 & 11 (32bit & 64bit)
Red Hat Enterprise Linux 5 & 6 (32bit & 64bit)
Oracle Solaris 9 & 10
HP-UX v11iV3 (Itanium)
AIX 6.1, 7.1
*Oracle and Autodesk SQLite FDO only
Master Location Data
Locate success with the most complete and accurate geocoding and geoenrichment available.
Businesses need to unlock the value within their data, and leveraging location-based information is the key. Through the process of Geocoding addresses and enriching them with additional descriptive data, businesses are able to make more accurate and quick decisions. Master Location Data and GeoEnrichment improve decision making by delivering insight-ready data instantly.
For example:
To better understand risk, an organization needs to associate their customers' addresses with precise locations and enrich those addresses with location-based risk information. Master Location Data and GeoEnrichment does this in a simple and accurate straight-through-process so that the organization can focus on assessing risk, rather than preparing data.
Master Location Data combines highly accurate and complete geocoding with powerful data enrichment capabilities that provide:

An innovative and straightforward way to link each address to a wide catalog of data attributes.

High level of geographic accuracy with meaningful results codes.

Extremely high levels of address matching for national coverage.
Benefits
Multi-sourced for complete coverage
Master Location Data is a richly multi-sourced dataset that delivers industry-leading match rates and has the highest precision coordinates of any geocoding product available.
Highly accurate
Unparalleled accuracy of geocodes at the property point level including millions of non-postal street addresses in smaller and gated communities.
GeoEnrichment simplified
Using the Spectrum® GeoEnrichment Module, Master Location Data adds a unique, persistent pbKey™ to each address and named location to simplify linking to many Pitney Bowes and third party datasets. This helps to unlock a wealth of rich attributable information.
Added value from optional data sets
Address Fabric Data – ideal for organizations requiring all possible addresses for use in a wide range of marketing, analytic and research applications.
Locate success
Master Location Data is part of the Pitney Bowes Location Intelligence Suite. It's a comprehensive and integrated portfolio of Location Intelligence, GIS and location analytics solutions and services.
Spectrum® Advanced Global Address Management
Validate, correct and standardize in real-time
Verify and optimize addresses across a wide selection of countries with Advanced Global Address Management. Now you can ensure that your data is correctly formatted and validated, right down to the house or apartment number.
Manage all of your address verification and standardization needs, with a tool designed for ease of use.

Connect with your customers
Personalization of your customer communications.

Integrate with ease
Smart-autocomplete features add real-time validation

Expand your impact
Improve and share better addresses enterprise-wide.
Spectrum Advanced Global Address Management will help propel you toward a more precise, robust and actionable Single Customer View. It's designed for ease of use, yet powerful enough to handle all of your address verification and standardization needs.
Get the best of the best.
Spectrum Advanced Global Address Management can multi-source data to help you arrive at the best possible version of each address. Type-ahead and smart-autocomplete features add real-time validation, boosting your efficiency and accuracy.
Engage with customers.

Discover how intuitive navigation and excellent support lets you improve and share better addresses enterprise-wide to ensure high quality customer communications. Features including multi-national characters and appropriate casing, help to advance the precision and personalization of your customer communications on a global scale.
Seamless integration.
Operating in the Spectrum Technology platform, Advanced Global Address Management integrates seamlessly with other Spectrum capabilities, such as Data Federation and Master Data Management. It features a flexible architecture, along with an array of pre-built connectors for interfaces including Java, COM, C, .NET and C++.
Expand your impact.
Utilize Spectrum Advanced Global Address Management with any or all of the Spectrum solutions